The DSI Information Abundance Project
The DSI Information Abundance Project
Ever since there was more information than people could realistically digest, we have been concerned about information overload. Across different areas of life people have to manage a more and more crowded information space and they have to make numerous decisions per day among an abundance of available information sources. However, these publicly discussed fears are rarely based on empirical evidence about the actual impact information abundance has on people's lives. We also lack a common understanding of what information abundance is and how to assess it on a normative level.
Concern has grown regarding possible threats of digital technology for the individual, organisations, economy, society, and for democracy, such as the inability to make timely and informed decisions in private, health, workplace, or political matters. These very concerns dominate the public debate about what is often referred to as information stress, infobesity, data smog or information pollution. But clearly, abundance of information also has positive aspects and for many these might be more meaningful than possible downsides that come with it. This might also depend on where we look or who is concerned.
The DSI Information Abundance Project seeks to inform this debate and possible actions. Led by Dr Anne Schulz and Dr Sophia Volk, the project brings together an interdisciplinary group of UZH scholars who collaborate on different conceptual and empirical questions. Among those working with us in different parts of the project are Dr Sina Blassnig, Dr Andrea Horn, Dr Sabrina H. Kessler, Dr Sarah Marschlich, Dr Hao Nguyen, Nico Pfiffner, Michael Reiss, Dr Lea Stahel, Prof Dr Nadine Strauss, Dr Aleksandra Urman, Dr Markus Wolf.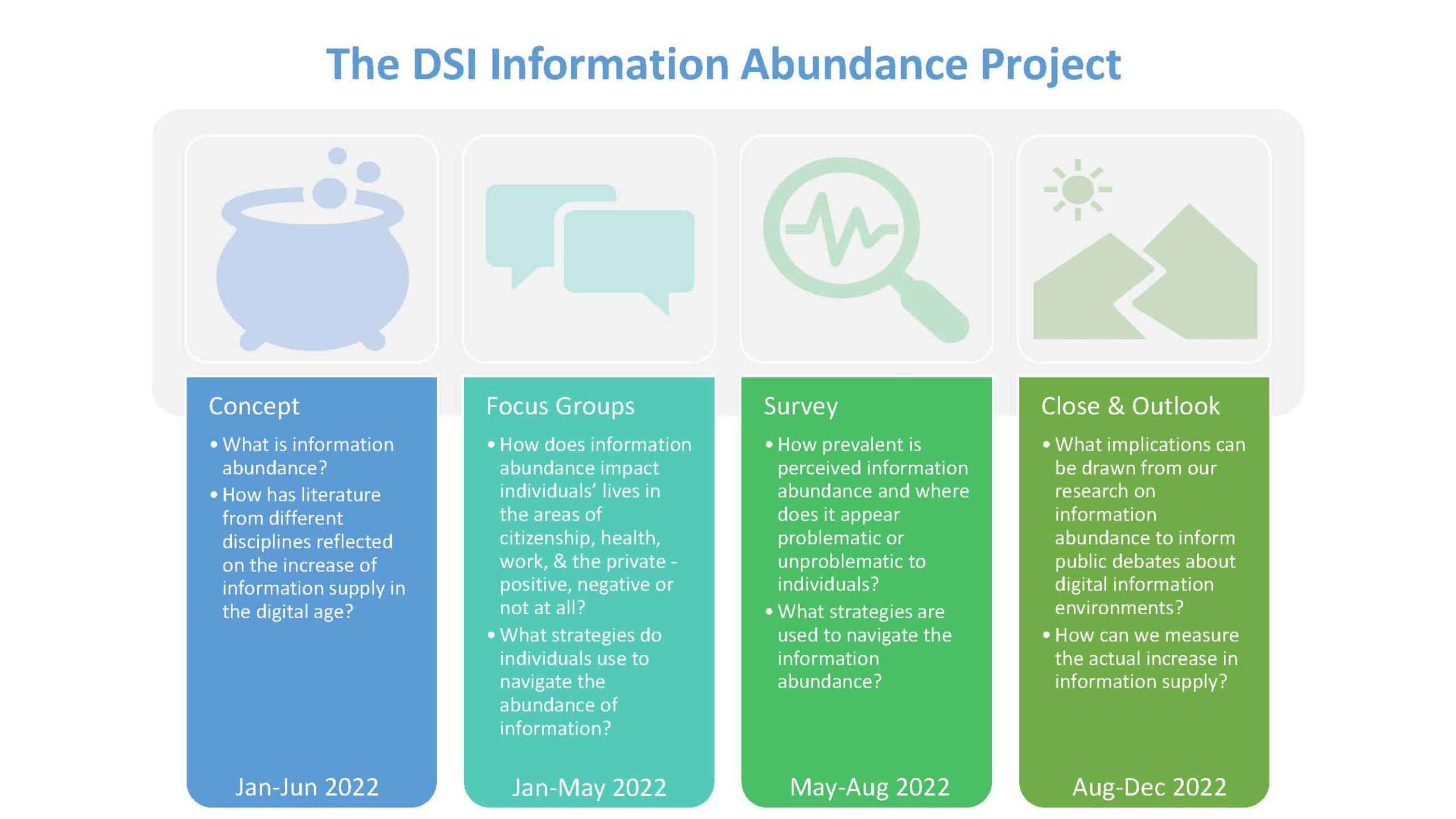 Defining information abundance
The project will critically reflect what information abundance is from different disciplinary perspectives. This comprises a discussion of how the increase of information supply is accelerated by the process of digitization and how this might impact, for example, individuals, society, economy, science, and democracy.
Studying information abundance
Based on the conceptual work, the project will use focus group interviews to explore in which ways (positive and negative) and to what degree (if at all) the increase of information supply impacts individuals of different age groups, social status, or occupations in different areas of life. Furthermore, a representative online survey among the Swiss public will be conducted to i) develop a measurement to gauge perceived information overload and to ii) establish the prevalence of information overload in Switzerland, conditions that foster or mitigate it (e.g., digital literacy, information consumption, coping strategies) as well as individual level consequences (e.g., well-being, decision making).
Background
The "Information Abundance Project" is composed of an interdisciplinary group of UZH scholars, who collaborate on different conceptual and empirical questions related to information abundance.
Research Questions
1. How is information abundance understood and dealt with in different scientific disciplines?
2. How are individuals affected by information abundance and how do they navigate the information plenty?
3. What are the prevalence, conditions, and consequences of information overload?
Project Aim
The project aims to inform the public debate and possible actions by studying information abundance both conceptually and empirically, combining conceptual work, focus groups and a representative online survey in Switzerland. It aims to connect researchers with interest in the phenomenon and to pave the way for future interdisciplinary and international collaborations.
Get in touch
The project's findings will be presented at scientific conferences throughout 2022 and 2023 and disseminated via peer-reviewed journal articles and social media. If you are interested in information abundance as well, please don't hesitate and get in touch! We look forward to cross-national collaborations and conducting comparative studies to explore macro-level influences on information abundance in the future.

Contact:
a.schulz@ikmz.uzh.ch (@annisch)
s.volk@ikmz.uzh.ch (@sophia_c_volk)